Got Purpose?
Certainly Covid 19 has changed the way we look at our world and ourselves. Many are struggling…ALL of us are, in one way or another! We are bored, we are scared, we cannot focus, we cannot function in one form or another. We want to be back to "normal." And yet, the sun still rises and sets every day. How then, can we cope? How can we trust? There is one tool in the tool kit of life which can help in such situations, when we are suffering and may be feeling "less than."
It starts by noticing: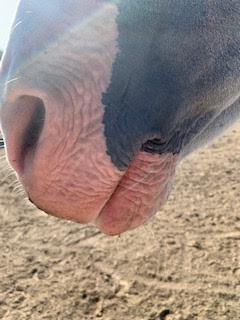 Here are two vastly different photos. Their similarities? Noticing in the eye of the one taking the photos. 
Did you know that a praying mantis signifies peace, quiet and calm? They live their lives at a quieter, silent pace. You can see why…They move so slowly…unless they are aiming for some food! Then, they have quick reactions, to get what they want. 
The second picture, Viton's cute little pink nose, was so adorable, I just had to snap a picture of it. As I looked closer, I noticed not only his wrinkles, but also his whiskers. After spending many, many years trimming whiskers, we now let them grow long…He is not being shown any more, so long whiskers it is!
Two pictures, two times of pausing. It helps us to deal with the insanity and craziness of our outside world. To connect with another, either horse, human or nature, is SO HEALING for our souls right now!
Find connection wherever you can. That can be everywhere–you just have to be intentional about them and notice. Focus on serotonin producing activities. Things that make you feel good and are good for you! Be of service! Help another…you can do that and maintain social distance! Allow constraint to breed creativity! You don't have to stay stuck! 
It is true, our lives have changed. However, your purpose does NOT have to change! Your purpose is not always what you do, it is who you are! 
Here at The Resonant Horse, it is important that we continue to partner with the horses and lead others into greater freedom, allowing them to move into their life's purpose. It is a wonderful thing to see lives changing!!
Mindy is now doing private phone and/or Zoom sessions with the horses, as well as in the traditional counseling modality. Schedule a time with her soon!
Our next Horse Circle is Thursday October 8th, 5:00-6:30 pm.
The Grace Trail, a totally self guided trail to inspire you towards greater gratitude, awe and purpose is available. You will enjoy the beauty of the animals as you wander along the trail, stopping at 5 stations and answering profound questions.
Ever want to know more about TEDX Talks? Then join Mindy, as she teaches a Zoom two part course at Main Line School Night: "So you Wanna Give a TEDX Talk?" The dates are October 8th and 15th! 7:00-8:30 pm. Contact her, and she will send you the info!